2020 On-line Art Show
---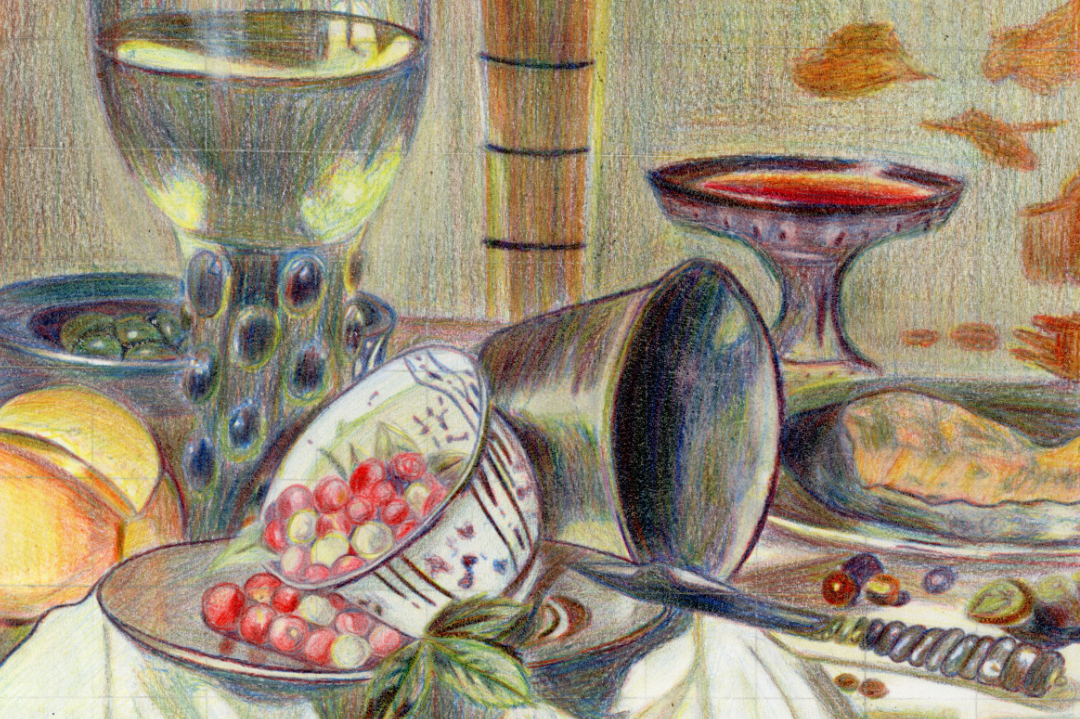 The NCPA art Department is proud to present the 2020 on-line art show! This art is a celebration of skill and emotion; featuring selected art works from each of our AP art students' portfolios as well as work from all NCPA art courses. 2020 has brought unexpected trials and challenges, yet our students persevered and made exceptional art throughout the school year. We hope you will appreciate the talent and skill of our students as you explore their art.
Fernanda Oliva teaches middle school at NPCA, the grade 7 students practiced the grid method and their use of colored pencils in Art Reproductions: Mastering Primary Color through Famous Artworks. The Grade 8 students made cultural connections in their project Islamic Pattern Design: Art meets Math.
Alanna Mounsey, Chalynne Cowan, Emily Gaustad, and Jon Poblador teach Art Foundations. Copying a still life photograph, students used pen and ink to create different values and an illusion of three-dimensionality using only lines.
Alanna Mounsey teaches and Ceramics I and Ceramics II where students learn various clay techniques and explore design and cultural concepts through building forms with clay. A selection of work from Ceramics I shows students ability to hand build and use glazes and express their personal style. The work on display shows Pinch Pot Hybrid Abstractions, Coil vessels and Slab Boxes.
Emily Gaustad teaches Mixed Media 2D, the work displayed are Linocut Reproduction Print with Chine Colle, through this method students have explored an idea of "culture" by using their images, materials and techniques to develop a cultural story.
Chalynne Cowan teaches Graphic Design and Mixed Media 3D. Graphic Design is an introduction to digital art using Affinity Photo and Affinity Designer. Students practiced multiple techniques, styles of art, and design concepts. The works on display are: Contrasting Pairs, Dynamic Text, Principles and Patterns, and Themed Triptychs. MM3D is a course that examines materials and their uses in a 3D context. The artwork displayed is Quarantine Sculptures which were made in the time of the pandemic and Kinetic Sculptures that feature movement as a major concept in their design.
Jon Poblador teaches grade 9, Drawing and Painting and AP Studio Art. Drawing and Painting students using graphite pencil, students made a photo-realistic self-portrait to show their different personalities and interests. They also made artworks reflecting on their experiences with online schooling and the COVID-19 virus pandemic. AP studio students worked all year to create a body of work inspired by a personal inquiry. Their art is a result of research, experimentation, exploration and reflection, you will see a sample of their portfolio and a statement about their inquiry.